Shipping:

Free shipping on orders over $99

PickUp:

Free Pickup at Store, Usually ready in 4 hours.
The lever machine with the little extra.
The Cremina SL combines the tranquility of a hand lever machine with the simplicity of a semi-automatic machine. If you have a soft spot for purely mechanical extraction and do not want to leave constant quality to chance, the Cremina SL is the right choice.
The completely redesigned brewing group paired with the solid base of the Cremina gives it a unique appearance. Never before a brew group with a compression spring has been used on such a compact machine.
With each extraction, you can experience how the lever moves constantly and slowly upwards, magically, while a perfect espresso flows into your cup below.
The front is made of high gloss polished steel. Frame and casing are lacquered with a highly resistant powder coating. The Cremina SL's top can be used to preheat the espresso cups; the drip tray and the grate can be easily removed and cleaned.
This exceptional manufacturing quality can only be reached, because it remains the engineers' and designers' prime goal to build the perfect espresso machine.
Available colours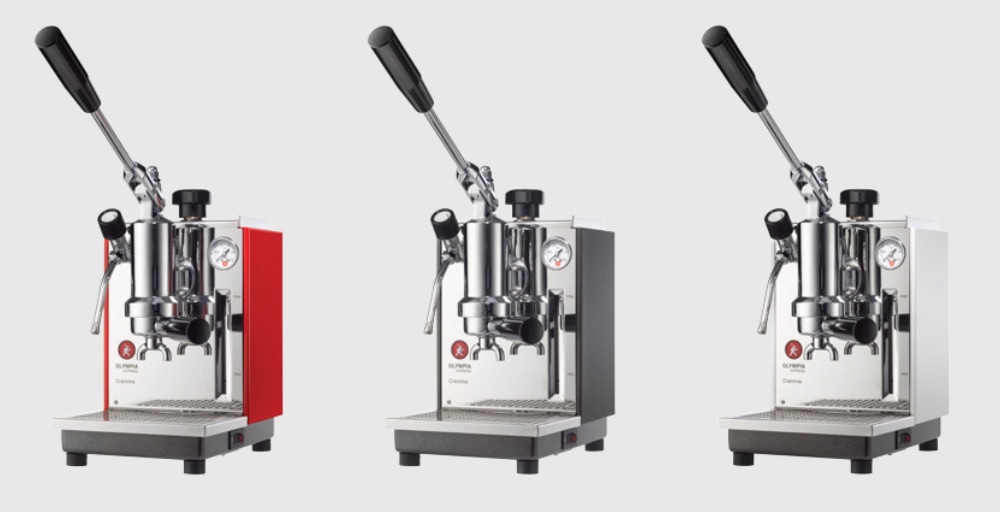 Technical Specifications Cremina SL
Width 20 cm

Depth 27 cm (with lever 47 cm)
Height 38 cm (with lever 49 cm)
Weight 13 kg
Current supply 120 V / 60 Hz / 1000 W
Cable length 160 cm
Power input 1000 Watt
Total 5 star reviews: 3
Total 4 star reviews: 2
Total 3 star reviews: 0
Total 2 star reviews: 0
Total 1 star reviews: 0
100%
would recommend this product
A great machine for espresso enthusiasts

Cremina SL aesthetics and finish are amazing and it is precisely machined with high quality components. Also, the Cremina SL's footprint is relatively small being about half the weight of my full size semi auto espresso machine with a 58mm group head. After a few weeks I've come to believe that, with the right coffee and grind, the Cremina SL is capable of making great espresso and espresso based beverages. However, achieving such results requires practice and a certain amount of trial and error. I would definitely recommend the Cremina SL to those who both enjoy espresso and the process of making it.

Basil W.

Verified Buyer

Lovely Olympia SL - New machine same Olympia Quality as in the past

This is my second Cremina but my first spring lever. The quality is top notch as was my model 67. The 67 is still making great coffee and expect that this new Cremina SL will still be pullinng great shots when it is 50+ as well.

You will see in my

You will see in my earlier review how disappointed I was by the quality control issues I was having with my new Cremina SL. But I also commented that I was glad I had bought my product from a company like Cerini. Well, Johnny came good! Nothing was too much trouble in trying to fix my issues and now - with a new group head rushed to me by Cerini - I am pulling wonderful shots. Thank you so much.

I've owned a number of

I've owned a number of used Creminas over the last few years. I decided to sell my vintage machines, and go all in on a new SL. I was stunned when I opened the box. Such a beautiful machine! Was dialed in within a couple shots, and steaming milk at the same time as pulling a shot was everything I thought it would be. The group seems to be very stable temp wise, and I am now sold on spring levers. Watching that lever rise on its own is every bit as satisfying as pulling a shot on a standard lever machine. If you are a fan of Olympia, at some point you have to own a new machine. You won't regret it!

I've been eagerly awaiting my

I've been eagerly awaiting my Cremina SL for months. Now that I've got it, I can't help but be impressed by its build quality & beauty.

Johnny was great at answering my questions & keeping me updated on my order status.

This is my first experience with a lever machine, so there's a learning curve, but that's part of the fun. I know it will get better, but I'm already getting good shots out of it.

A few things to be aware of:

1) Grind a bit coarser & tamp lighter than a pump-driven machine

2) Buy a temperature measuring tool (strip or LCD thermometer)

3) There are portafilter baskets that hold more grounds, but you will need to "double pump" the lever if you buy them. I have one on order.

4) Wait to remove your portafilter for at least 30 seconds after finishing your shot, just to make sure there's no spring pressure left on it.

I'm amazed how dry my puck comes out.

The only "flaw" I've found is that the lever seems to stop halfway up, & needs a bit of a push. Since I'm new to this type of machine, I don't know if it's a spring, lube, or tamping issue. With online support, I'll get better at this & expect to solve all my problems.
Reviews Loaded
Reviews Added
The SL machine is not good for profiling, but it makes consistent espresso shots ?

Cremina SL doesn't need profiling, because it will have the consistent pressure applied from the spring. Allowing the user to focus more on grind size and grind amount.

How many bars of pressure will the group produce?

It will produce a maximum of 6 Bars of pressure.